I'm Just Sayin'…#82 on Joe Quesada's Marvel Promotion and More
Alright, my friendly neighborhood comic book heads, we are back with some more of…
…and before we get this off the ground, I suppose "congratulations" are in order for Joe Quesada, freshly promoted to the title of Chief Creative Officer of Marvel Entertainment. Quoting the press release in part:
"New York, NY – June 2, 2010 – Marvel Entertainment, LLC announced today that it has promoted Joe Quesada to Chief Creative Officer of Marvel Entertainment. In this new role, Mr. Quesada will work alongside Alan Fine, Executive Vice President, Office of the President and Chairman of Marvel Studios' Creative Committee, to ensure that all portrayals of Marvel's characters and storytelling remain true to the essence of Marvel's rich history. Additionally, Mr. Quesada will provide creative oversight of all areas of Marvel's business including theatrical, television, publishing, animation and games, while also actively participating in all story and script development for Marvel's films and animation. Prior to this promotion, Mr. Quesada held the role of Chief Creative Officer & Editor-In-Chief, Marvel Animation & Publishing and oversaw the creative aspects of Marvel Comics and Marvel Animation. The announcement was made today by Mr. Fine, to whom Mr. Quesada will report."
And now, I'd like to offer up the following snippet from the above quote with Comics Nexus' brand-spanking new IroniVision:
"In this new role…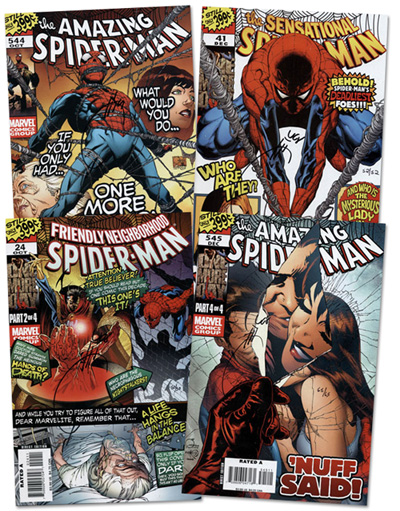 "…Quesada will work alongside Alan Fine, Executive Vice President, Office of the President and Chairman of Marvel Studios' Creative Committee…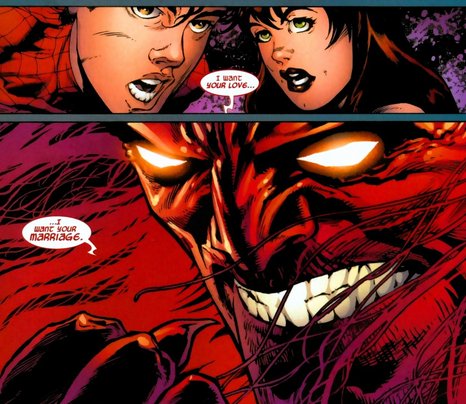 "…to ensure that ALL PORTRAYALS OF MARVEL'S CHARACTERS AND STORYTELLING REMAIN TRUE TO THE ESSENCE OF MARVEL'S RICH HISTORY."
Hm – guess it's a good thing that he got this out of his system, huh? Now he can really buckle down and guard that rich, pothole-riddled history…!
I'm gonna come back to this in the next column, because I'm going to have a lot to say about the chain reaction of thoughts this news triggered in me. But I have other things I want to talk about this time around, and the first thing I want to do is pick up where we left off in my previous column. On the topic of killing off comic book characters (whether it be a fan favorite like Nightcrawler or a total hot mess/capital-F Failure like the Sentry), recently joined MightyGodKing.com contributor and one of my favorite comic book commentators on the web – John Seavey – offered a simple enough solution: JUST STOP DOING IT. 
Quoting Seavey: "There's no way you can possibly make a death stick in a comic book; they're fictional characters, they'll come back as long as someone remembers them fondly enough to bring them back. And as Bucky proves, that can be an amazingly long time. Since there's no way to make death anything more than a temporary condition in a comic-book universe, why keep deploying it? Surely it can't be for shock value. Jaded fans no longer care about comic-book death, not when DC kills the Martian Manhunter and resurrects Barry Allen in the same crossover. Death in comics doesn't matter anymore as much because it's overused as because it's impermanent. So why not just let death die for a while?"
And that could work, sure…but the problem with this solution is if you do that, what will inspire Geoff Johns' next blockbuster idea?
Not to mention he could always do JONATHAN KENT: REBIRTH…
Like I said last time, the superhero concept is predicated upon a singular or pluralized embodiment of a fundamental quality that we should all strive towards: WHEN YOU KNOW BEYOND A SHADOW OF A DOUBT THAT SOMETHING IS WRONG, YOU MUST ACT TO RIGHT IT. For my money, there is no greater example than this one…
…the adventures of a man who wanted to act in the name of righteousness, before he even had the power to do so. To me, that makes Steve Rogers one of the most compelling literary characters I've ever read – it sure would be interesting to learn what kind of life creates a person of such conviction – and it was like having a wish half-granted to learn that Ed Brubaker would be writing more of him after all, between SECRET AVENGERS (which to me seems more fitting as a subplot in a single Avengers comic – heck, I'd take it as a CAPTAIN AMERICA back-up over NOMAD!), and a solo miniseries called STEVE ROGERS: SUPER-SOLDIER…
…because like I've mentioned before, Ed Brubaker has proven himself as one of those few writers out there that can write a slammin' Steve Rogers, and as much as I've been enjoying Bucky in the lead role, I don't want Ed to leave CAPTAIN AMERICA before Steve is wielding the shield again. But in Bru we trust, so this will do for the time being.
And of course there's the latest on CAPTAIN AMERICA: THE FIRST AVENGER, namely images first leaked on June 2nd – showing what Chris Evans (from Human Torch to Captain America – who knew there were so few blond actors out there?) is going to look like in the film adaptation of the good captain's uniform…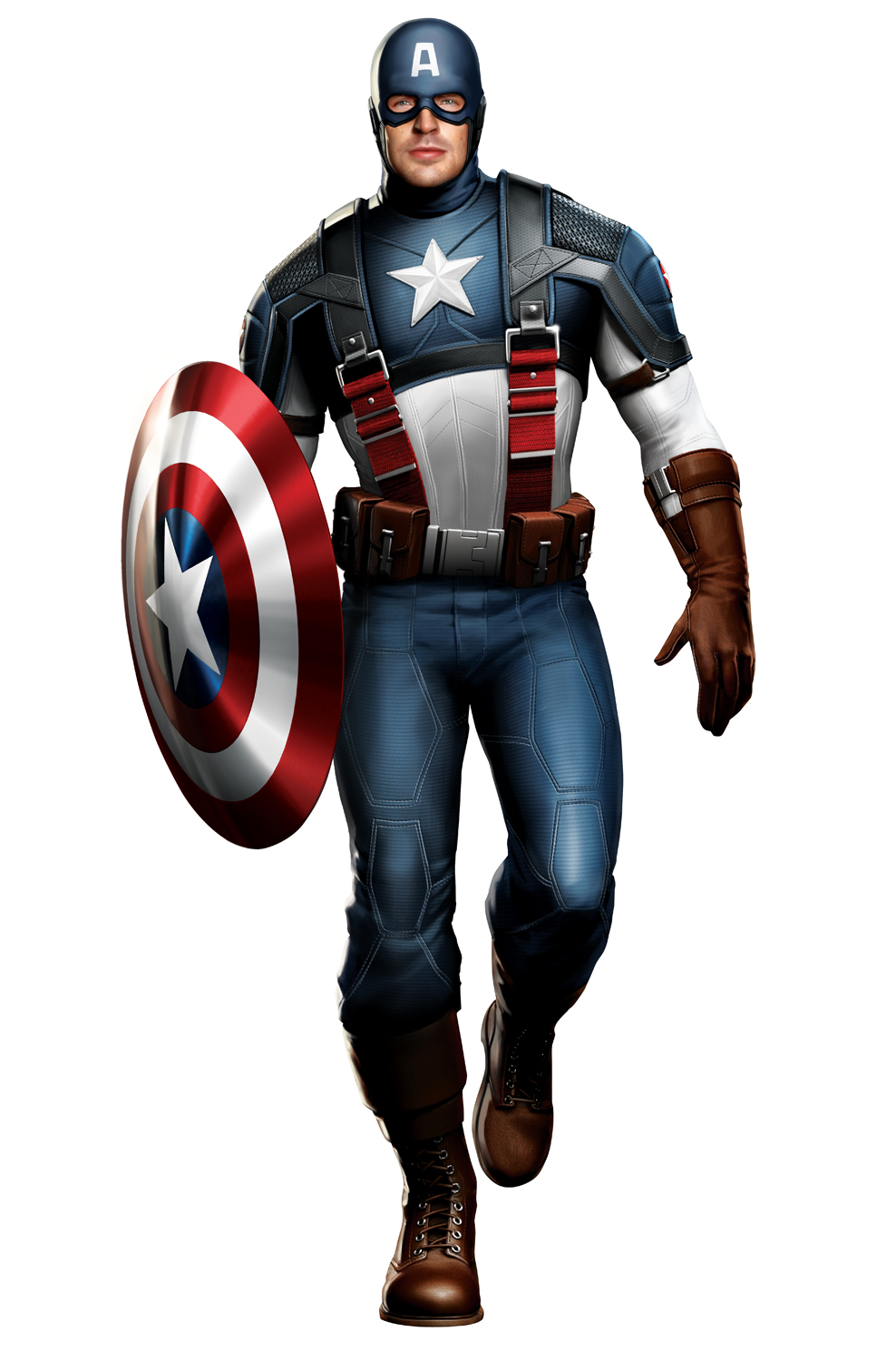 Quoting Peter Sciretta: "I was always a little bit skeptical about the Captain America movie based purely on the superhero's costume. I mean, lets face it, if they had stuck to the exact design from the comic book, it would have been ripe for ridicule. But these images look realistic and not too cartoony, while still managing to stay true to the appearance of the Captain in the comics."
Eh…if that's what they're going with, then I think they could've gotten a little truer, myself. But that could be just me; I'm always thinking there's never an excuse not to make a movie adaptation of a comic book character look as close to the comic book character as possible (see: I'M JUST SAYIN'… #29, October 1, 2008). I mean, that's part of the point of going to see a superhero movie, isn't it? I mean, if Hollywood can give us the Wolver-do…
… then you can give me something a little closer to this:
…complete with red stripes that're there on purpose. And don't spare the buccaneer boots, either!
In general, I have to admit that I'm actually getting a little tired of what feels like an avalanche of superhero movie news, and I feel like Marvel's a slightly guiltier party on this front. I've been getting more excited about the updates I read out of DC territory, because the focus is on a smaller number of characters in general: Superman, Batman and Green Lantern. Meanwhile with Marvel, if you go on SUPERHEROHYPE.com, you can find news – nay, entire portals – devoted to IRON MAN 2, THOR, CAPTAIN AMERICA, their plans for THE AVENGERS…you can find an IMDb page on LUKE CAGE, another on ANT-MAN, not to mention I hear Ken Burns' been approached for a special little project called STAN WHO? THE BRIAN MICHAEL BENDIS STORY…it's gotten to a point where a part of me is praying for the next BATMAN & ROBIN to come out and bring this phase to a crashing halt all over again, so I could get a little break!
I mean, Marvel's proceeding with a Spider-Man film reboot right now that makes no sense to me whatsoever. All I can think of is, why? You've done the Spider-Man movie, and it was a success – even if the third movie was a train wreck that felt more like a theme park ride than an actual film, you've done Spider-Man, and it worked out! I'm just sayin' – put it on the shelf for a generation, let it cool off for a bit…thank Stan I'm not the only one who thinks so…
There was a time when I was interested in seeing X-MEN: FIRST CLASS come to the big screen, but now that it's actually happening, and the casting announcements are coming out…just enough with the X-Men reboots, alright? Between the movies, the EVOLUTION animated series a few years back and now this WOLVERINE AND THE X-MEN thing that Nicktoons has been doing, I'm just done – which is a bummer because at this point, a rendition I'd have really been interested in, namely this…
…done with a Glen Murakami-style flavoring like this…
…I mean, the five character archetypes are practically interchangeable! Sigh…would've been nice, I think…
AND NOW, JUST CUZ I FEEL LIKE IT…
Now I know you guys have heard about this by now! Click on the image to see it in action, and then click HERE to try out some of this awesome for yourself! And that's it for us today – until next time, I'm Greg Manuel and I'm just sayin', is all…
Tags: Captain America, Commentary, Greg Manuel, I'm Just Sayin'..., Spider-Man, Spider-Man: NO GOOD REASON, Steve Rogers: Super-Soldier, Teen Titans, X-Men, X-Men First Class
About The Author
Greg Manuel